In its current issue The New Yorker profiles Rhonda Byrne, the author of the Oprah Winfrey-endorsed "The Secret," the book that "urges readers to rid themselves of illness through 'harmonious thoughts,' to attract love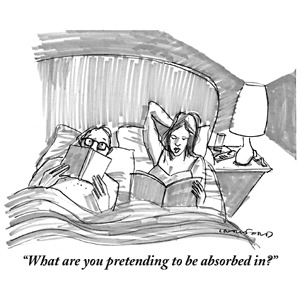 by loving themselves, and to express gratitude for what they want before they get it." There is a "law of attraction, which decrees that thoughts have physical power, and that thinking about something is the way to get it." And in a phrase reminiscent of both post-modernism and the Bush administration: "You are the only one who creates your reality ...."
Unfortunately, these affirmations have not worked so well for Byrne's colleagues, one of whom parted ways with her in a financial dispute and another who was charged with manslaughter after he led a sweat-lodge ceremony in which three people died. Apparently they thought overly hot thoughts.
The upcoming sequel to "The Secret" is "The Power" (not to be confused with what I assume is a Jersey Shore character), in which we are "meant to have an amazing life" buying Byrne's books: "Byrne's doctrine is ruthlessly simple, and efficient, too: it promises to collapse thousands of years of faith and science into a single thought." The profile treats all of this as a new-agey version of America's general history of optimism, especially as expressed in Emerson's combination of philosophy and self-help. Emerson inspired the "New Thought" movement, which in turn inspired Mary Baker Eddy's Christian Science.
As an antidote, Barbara Ehrenreich's Bright-Sided: How Positive Thinking Is Undermining America:
argues that "positive thinking has made itself useful as an apology for the crueler aspects of the market economy," and she blames overly optimistic thinking for much of what alarms her about this country: the recent housing bubble, the protracted wars, the failure to take climate change seriously, and even Americans' mediocre performance on a barrage of international happiness tests. She worries that our single-minded obsession with happiness is, contrary to the law of attraction, making us sad
While New Thought was actually progressive in its leanings, its successors -- including "The Secret" -- leave little place for talking about what Marx called the ideology of the bourgeoisie.
Psychoanalysts have a name for the positive thinking movement: it's called the "manic defense." This isn't the full-blown manic depression (now "bipolar disorder") of DSMV fame. Rather's its an avoidance of the inevitable mourning (and associated guilt) involved in a realization that we can't have it all. Which is to say, no satisfactions and accomplishments are going to bring back mama. As Neil Altman puts it in Manic Society: Toward the Depressive Position, it is "characterized by clinging to a sense of omnipotence, denial of psychic reality, an associated flight into action as opposed to thought, and massive projective identification." And Ehrenreich is right to think that there are profound social consequences to this defense. Altman describes the social manifestations of each aspect of the manic defense (I don't entirely agree with what follows, but I think there are grains of truth):
Omnipotence, the social manifestation of which is the pursuit of wealth and success as keys to immortality, absolute freedom, security, happiness, etc.
Projective Identification: Socially, "the creation and maintenance of an impoverished, left behind group of people in our society serves functions for the American psyche analogous to the function of projective identification on an individual level"; impoverished groups are collective internal objects, experienced as other, demonized, and ignored to the point that they are induced to confirm prejudicial stereotypes. Mainstream Americans can then disavow such qualities, make marginalized groups containers for "the suffering, the sense of limitation, constraint, and vulnerability that tend to be disavowed by middle-class Americans."
Splitting: Separating what is hated and loved so the former never damages the latter: manifested socially in dehumanization. This denial of guilt is most dangerous in nationalism and other group identifications, which percolate downwards (and unconsciously) into individual relationships. And generally, one's relationship to internal objects is influenced both by culture and early family development.
I think the manic defense is also implicated in the inane hybrids of science and amateur philosophy that some popularizers of science see as an easy replacement for the actual discipline of philosophical thinking. (I can't help think that self help, new age-ism, and the positive thinking are what the general public thinks of when they hear the phrase "metaphysical thinking," used by Oprah to describe Byrne's work). The actual discipline of philosophy is difficult -- as Socrates puts it, a form of "dying," a very gradual mourning of the fact that we can know only that we don't know. This implies that the human condition will inevitably involve a striving for something we can't ever have or return to except by death itself (a return to the primordial condition of complete fusion with a maternal object, absolute satisfaction). That ongoing striving -- which involves a tolerance for our desire, our "lack" (to use Lacan's word -- apologies) is worthwhile, but not in line with the kind of optimism that would deliver us from philosophical problems with short sharp shock of science, a kind of philosophical electroshock therapy (or perhaps just Cognitive Behavioral therapy -- also meant to be quick and easy). In fact, what psychoanalyst Melanie Klein called the "depressive position" is the goal of therapy: not positive thoughts and a disavowal of everything bad in life, but a tolerance for the fact that things are generally alloyed with both good and bad. Contra Sam Harris, science is not going to deliver up Ethics' head on a silver platter. And contra Stephen Hawking, philosophy itself will not die any more than dying itself will die.
That's why, whether you get thyself to a psychoanalyst or spend a lot of time thinking about philosophy, you're not going to be able to live out the fantasy of being an ultra-pragmatic American Pioneer, on the track of inevitable progress towards the big rock candy mountains. If you want to live in that utopia, then neither of these pursuits is for you. They will not disclose to you "The Secret."
By: Wes Alwan