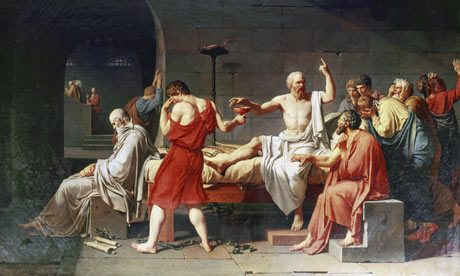 The Guardian UK published this promotion of Bettany Hughes' The Hemlock Cup: Socrates, Athens, and the Search for the Good Life.
It's a biography of Socrates claiming to put him in his proper context and, if the article mirrors the book, trying to make him relevant for today.
One of the points in the piece is that when Athens was a flourishing democracy, economically strong and militarily mighty, it could tolerate a gadfly like Socrates.  But when it was weak, beset by enemies and questioning its own values, Athenians "took a more fundamentalist view" and put him to the sword (or hemlock, as the case was).  At the end, he says that it isn't what he said or did that will convict him, but the court of public opinion ruled by gossip and rumor.

Naturally, language like that is intend to suggest that modern Western society (in the Democratic states), has seen its heyday and is in a depressed, self-questioning phase.  That might be a fair characterization or might not, but - as we've said on this blog before - there definitely seems to be a decline in rational, civil discourse.  Take a look at what is happening in political debate in this country if you doubt, or check out almost any current events show filled with talking heads.
If the current court of public opinion is ruled by gossip and rumor, it's not the public we should blame, but the media.  Perfect current example:  the takeover of the Chevron ad campaign by the Yes Men.  [Disclaimer:  I went to college with one of them and think their stuff is fantastic]  At least some media outlets simply picked up the fake site and ran with it.  Fact checking be damned, the distribution of "news" on the internet has really just become the repetition of what will get attention.  Not so much rumor or gossip as whoring for clicks and page views.  So who cares what's true?  Why report when you can re-tweet?  And what is the punishment for making a mistake?  More attention.  This is only one example, but there are many others.
For democracy to thrive, there has to be unfettered civil discourse among an educated electorate.  The government is taking care of eliminating the latter, the media is destroying the former, and the vehicle that is making all of that possible at such a rapid pace is the internet, which is owned, for all intents and purposes by Google.   I'm not sure if Hughes is suggesting there is a lamb we have currently slaughtered who is our Socrates, or that one needs to emerge to hold a mirror up to our sorry culture.  I am sure that even if he existed and had a website, he'd be buried in the mass overload of detritus on the internet.  And there is no agora in Mountain View.
--seth