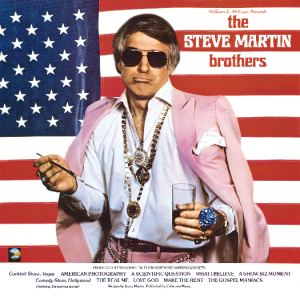 Listen to "I Believe."
This tune owes much in its conception to the old Steve Martin bit "What I Believe," but I used that rough format to express, back in 2002 when I wrote the bulk of this (calling it "Stalking George Burns"), something about my actual, momentary beliefs (when I'm at worst); or distilling belief down to what appears true only at that moment, i.e. the phenomenological surface of things; or playing with irony.
For the record, here are the lyrics:
Lord, I believe in subtlety and in stating things with strict exactitude and attention to the nuance of how dumb I feel. For instance, don't say "ouch;" say, "I perceive a tension in my left chest – there. And its proximate cause was when you ripped the hair out, leaving me lopsided and mildly less bushy and spiritually gushy, [and] I'm not sure why you did it though I could list three hundred reasons. Here goes: Number One…"

No! I believe in subtlety. I believe in sounding off at nothing when it really didn't matter what exactly got me going in the first place. I believe in a few basic truths… None of which I could possibly do justice to now.

Lord, I believe.

Lord, I believe in long hard work… As long as it's obsessive and completely self-invented and unwelcome. …Like stalking George Burns or writing songs.
I believe in bullshit – if bullshit is funny, which it is!

I believe if you hate enough and vent enough then everyone you meet will just adore you. I believe if I'm loud enough and I'm hoarse enough and I'm foul enough then I will win!
I recall the original version being considerably more wandering and pointless than this, and my wife was not impressed when I played it for her. My band at the time obviously wasn't going to do the song, so it just sat there until 2010 when this song-a-week (at the time) music blog inspired me to finish it, lay down the guitar/vocal (in one take, on one track, with no click, meaning that the tempo is all over the place) and a bunch of cool background harmonies, and get my old Mark Lint and the Fake drummer Dave Hamilton to record a drum part at his place. …But then that effort slowed down considerably, so that recording sat there until just this month, when I decided to finish it for our existence of God episode. I added a quick bass part, a little acoustic guitar sparkle in the last chorus, and then spent some time with my newfound MIDI abilities to find a decent church organ patch, and here's the result, which makes me happy.
-Mark Linsenmayer