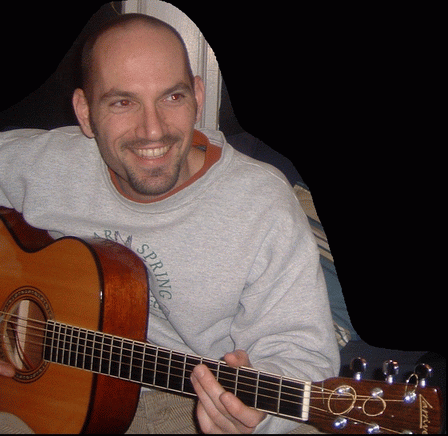 Listen to "False Morality" and a more recent tune of Cliff's: "I See God."
Probably my first experience with hardcore atheism was hanging out with Cliff Kaminsky, who played with my college band The MayTricks for about a year from fall '93 to its end in August '94. We auditioned Cliff a year or two earlier, and he played us a demo of this song, "False Morality." Given that Steve our drummer was Christian and kind of touchy about it, we didn't end up jamming with him further at that point, but with a few more lineup changes, his continued presence in town and level of talent (lead quality vocalist, keyboardist, guitarist, etc.) led us to sign him on, and though the band was already pretty full of songwriters, he was a great addition and great friend, and we ended up adding that very song that turned Steve off to our live set.
This recording, then, was released on our third (and double) album, "Happy Songs Will Bring You Down" (which I expect to have available on the web in full soon… all 35 songs of it), and features basic instrumental tracks played live as a full band, with overdubbed lead instruments including a rather off-the-cuff horn section intrusion (with Cliff playing trumpet and our other other guitarist Geoff playing trombone) that I think I was primarily to blame for.
Eventually Cliff moved out to Los Angeles from Ann Arbor, and in 2004 died in a rock climbing accident. I don't know a lot of folks who have died, let alone in my age group, and he was the first of them, so I've since thought of him probably too often when mortal thoughts come up. One thing that really stuck with me was his totally open-ended tastes. I had always prided myself on my eclecticism, but I had my limits: he would listen not only the "cool" stuff I was into, but was into Brazillian top 40 dance tunes and had a John Denver song in his live set. He enjoyed what was on offer without shame. He was an activist (PETA and such) and otherwise served as an exemplar of a life well examined and adventurously lived.
I've also posted a solo tune of his, "I See God," which demonstrates the kind of spiritualism

that does not require belief in the supernatural. To hear more of his work, check out his memorial page, and consider donating a bit to the foundation set up in his name.
-Mark Linsenmayer