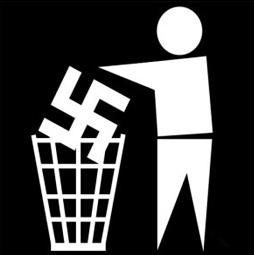 OK, I was listening to the latest episode of Philosophy Bites, where Nigel "Daddy Warbucks" Warburton is interviewing Sean Kelly about Homer and Philosophy.  I have documented elsewhere my love and admiration of Warburton and the podcast, so this is not in any way to be construed as a criticism.  But a couple of things pushed my buttons.
At the beginning, David Edmunds says that philosophers haven't regarded the epic poems of Homer as worthy of philosophical investigation.  I think Nietzsche did.  Small quibble.  What really annoyed me was that during the discussion, Kelly and Warburton are talking about group think/mob mentality (listen to the episode if you want to know how they got there from Homer) and Nigel uses the Nuremberg rallies as an example (pejoratively, of course).
Really Nigel?  The Nuremberg rallies?  You couldn't come up with a more recent, more topical, non-Nazi example?  I get it, I agree:  Nazi = bad.  And if it seems like I'm picking on Nigel, I apologize.  But it's painful to see, hear and read philosophers using National Socialism and the Holocaust as their 'go-to' examples to make points about moral theories.
It was a common pedagogical technique when we were teaching deontology vs. utilitarianism to pull out a 'you're a prisoner in a concentration camp and the guard tells you that you must kill one of X guys or he will execute all of them.  What do you do?'  It's like Sophie's Choice is the litmus test for moral decision making.  This use of extreme Nazi/Holocaust examples is ludicrous and, I would venture to say, immoral itself.
These examples are so far outside bounds of normal human experience as to be not at the limit, but outside normal moral discourse.  No one could be expected to act morally in these situations because moral rules no longer apply.  There is no right or wrong – just horror and inhumanity.
Start with the simple stuff before jumping into atrocity.  If you can't make your point using a 'should you tell your colleague that you saw her husband canoodling with another woman', then you aren't going to be persuasive asking which of her children she should murder.
We are in no position nor have we a right to make judgments about whether actions of victims in concentration camps were morally correct (most of the examples used are, sickeningly, based on fact).  It's arrogant, insensitive and, I think, immoral to do so.
I realize the Nuremberg rally example is not so extreme and we might fruitfully have some kind of discourse about it, but as I said, it pushed a button.  A common criticism of academic philosophy is that it is out of touch with the concerns of every day people while a common sense notion of philosophy has the expectation that philosophers are worried about every day questions:  what should I do?  how should I live?  what does it mean to be a good person?  Failing to connect with a topical, recognizable context doesn't help dispel the perception that philosophers are a bunch of navel gazers in an ivory tower without windows.
Anyone who would disagree that Nazis are bad and made people do atrocious things isn't going to be worth having a discussion with.  Likewise, Nazi examples have value in demonstrating the depravity of which humans are capable, but are not of use for  settling disputes in moral psychology or philosophy.  Spare us the obvious and challenge us with something we can understand and wrestle with intellectually.  </rant>
–seth