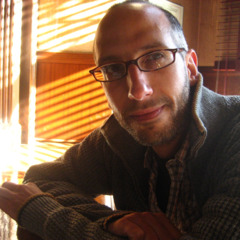 One of the name-drops on the Sartre episode is Henri Bergson, a philosopher who was in vogue in France at the time Sartre wrote, famous among other things for promoting and anti-atomic epistemology. Kant, for instance, thought that we get our idea of number out of time, meaning that time is essentially something we can count. For Bergson, time is a flow: if we break it up for analysis, that's an abstraction; it's epistemically subsequent to the primal flow. This goes well with Sartre's (and moreso Mereleau-Ponty's) excitement about gestalt psychology as part of the phenomenologist's project of taking experience as it comes without falsifying it with some theory, like Hume's empiricism, imposed upon the data.
With a little research I found this podcast/lecture on Bergson by Daniel Coffeen, focusing on Bergson's book Matter and Memory.
The topic sneaks in on you, with 17 minutes discussing cliché in movies and music ("Cliché is the production of death!" he exclaims) eventually getting to the text. He starts off discussing appearance vs. reality: these are not one, but they co-mingle; they're not in ontologically different categories. Correspondingly, Bergson recommends making consciousness and the brain into the same ontological category. (How? By fiat, apparently. Simply make it your starting point, presumably for phenomenological reasons.) "Everything is an image," and "this conception of matter is just common sense." He explains this as a view common to the post-Heidegger phenomenologists. There's also some more detail on what I claimed to be Sartre's ascription of affect/emotion onto the contents of experience itself (as opposed to on ourselves as the subjects having this experience), and some on interpersonal communication and its relation to action, and more. The final 15 minutes or so involve discussion of some specific artworks (which loses something in a purely audio format, as you might expect; I wasn't able to sit through it). This seems a common move for this type of view: Sartre and Merleau-Ponty in explicating their epistemology both turn readily to the experience of art: perceptions designed to make us think about perception itself.
I gather that this lecture was given at UC Berkeley, but it's not overly formal/academic (i.e. there's swearing). He's a bit fast and loose, and definitely into post-modernism (here he is on Deleuze on the Diet Soap podcast), but his illustrations are generally clear, so I've found this useful in getting myself attuned to that kind of terminology/outlook. His PhD is in rhetoric, and his recent podcast episodes are all presentations of his current rhetoric course.
This link will call up both the episode and the subsequent lecture, also on Bergson.
-Mark Linsenmayer