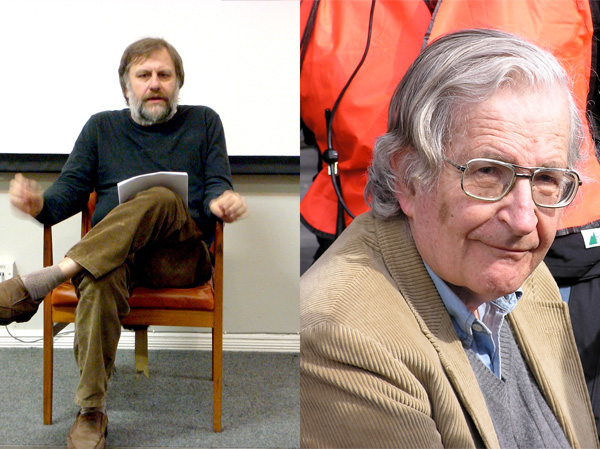 Editor's Note: We feel the need to provide some coverage of one of the few big news stories in philosophy, which is the ongoing hostile exchange between two giants of the philosophical left, Noam Chomsky and Slavoj Žižek. Since none of us podcasters has read much by either fellow or has much patience for following this story, I've asked PEL Citizen Michael Burgess to fill in the gap. For more info, check out OpenCulture's coverage here, here, and here.
Kant, who is credited with giving the Enlightenment its slogan, "Sapere Aude! Have the courage to use your own intelligence!": is also credited with dividing philosophy in half. In trying to reformulate metaphysics and epistemology to preserve the possibility of science, he deprived science its omniscience and made consciousness its pedestal.
This tension lies at the heart of post-Enlightenment philosophy and could be said to define the trenches between the Analytic and Continental schools: the former values formalization, empirical demonstration, and metaphysics a hair's breath from physics (to preserve the possibility of science…); the latter "human" modes of reasoning (from the formal to the literary), analysis of the empirical, metaphysics a hair's breadth from consciousness (to deprive science omniscience and make consciousness its pedestal).
Analytic philosophy was founded in Oxford and Princeton in the early part of the 20th century as both methodological commitment to conceptual and linguistic analysis and a philosophical commitment away from Kantian metaphysics towards a scientific realism. This has developed today into an unthinking dismissal of Kant's metaphysics in many analytic mainstay schools (in Oxford's eight-week introductory course for undergraduates, Kant receives about a minute of gross mischaracterization, which ends with "Kant had a very interesting theory, unfortunately its premises are completely wrong."). This reaction by analytic philosophers follows every major thinker in the continental tradition after Kant (see for example, the Nietzsche entry in The History of Western Philosophy by Russell).
The first shot fired by Chomsky at Zizek then, could have been said by any western analytic philosopher against any continental philosopher in the last 100 years (from openculture.com):
Try to find in all of the work you mentioned some principles from which you can deduce conclusions, empirically testable propositions where it all goes beyond the level of something you can explain in five minutes to a twelve-year-old. See if you can find that when the fancy words are decoded. I can't. So I'm not interested in that kind of posturing. Žižek is an extreme example of it.
Zizek's position, common to the continental tradition, is that there is no "collection of facts" free from ideology: a politicization of Kant's categories.
Zizek is not aiming to make empirical predictions, his aim is analysis of the very machinery which selects and performs the empirical predictions.
Zizek's reply is therefore predictable:
Well, with all deep respect that I do have for Chomsky, my first point is that Chomsky, who always emphasizes how one has to be empirical, accurate, not just some crazy Lacanian speculations and so on… well I don't think I know a guy who was so often empirically wrong in his descriptions in his whatever! Let's look… I remember when he defended this demonstration of Khmer Rouge. And he wrote a couple of texts claiming: No, this is Western propaganda. Khmer Rouge are not as horrible as that... And when later Zizek was compelled to admit that Khmer Rouge were not the nicest guys in the Universe and so on, his defense was quite shocking for me. It was that "No, with the data that we had at that point, I was right. At that point we didn't yet know enough, so… you know." But I totally reject this line of reasoning.
That is, what use is empiricism when it is infected by ideology, i.e. when the facts you selected and the meaning you ascribe to them are pre-determined by your ideology?
So Zizek goes on to say:
My God, you just have to listen to the public discourse of Stalinism, of Khmer Rouge, to get it that something terrifyingly pathological is going on there.
Do not discount reality, but do not just analyze the brute empirical (to do so is to introduce your own ideology!), but turn to other people's analysis of the empirical to find out what is "really going on." We should turn our analysis to the machinery of empirical prediction.
Zizek anticipates a reply,
His [Chomsky's] idea is today that cynicism of those in power is so open that we don't need any critique of ideology; you reach symptomatically between the lines, everything is cynically openly admitted.
Or, "The facts speak for themselves": if someone is invading iraq and profiting from it, then they did so to profit from it!
What was Chomsky's actual reply? (from roarmag.org)
According to him, I claim that "we don't need any critique of ideology" — that is, we don't need what I've devoted enormous efforts to for many years. His evidence? He heard that from some people who talked to me. Sheer fantasy again, but another indication of his concept of empirical fact and rational discussion.
Chomsky, who admits to not having spent the time to understand Zizek's position, immediately leaps to the analytical political philosophy meaning of "ideology" (vs. the quasi-marxist one Zizek is using): ideology as a merely political system. Chomsky believes that because he criticizes an ideology, he is criticizing ideology itself. To offer a criticism of globalized capitalism form the point of view of libertarian socialism is merely to play one ideology against another: to play one self of ideologically-selected facts and against another set. This is to be within ideology, not offering a criticism of it (in the sense that Zizek means).
Chomsky also refers to several alleged slanders, which I have to mention since those on either side of the Zizek/Chomsky debate offer these facts as something relevant to the work of either man:
For example, in the Winter 2008 issue of the German cultural journal Lettre International, Žižek attributed to me a racist comment on Obama by Silvio Berlusconi. I ignored it. Anyone who strays from ideological orthodoxy is used to this kind of treatment. However, an editor of Harper's magazine, Sam Stark, was interested and followed it up. In the January 2009 issue he reports the result of his investigation. Žižek said he was basing the attribution on something he had read in a Slovenian magazine. A marvelous source, if it even exists. And anyway, he continued, attributing to me a racist comment about Obama is not a criticism, because I should have made such remarks as "a fully admissible characterization in our political and ideological struggle." I leave it to others to decode. When asked about this by Slovene journalist/activist Igor Vidman, Žižek answered that he had discussed it with me over the phone and I had agreed with him. Of course, sheer fantasy.
It is worth quoting Zizek's fully apology he gave at the time (from versobooks.com):
In attributing to Noam Chomsky the statement that Obama is a white guy who took some sun-tanning sessions, I repeated an untrue claim which appeared in Slovene media, so I can only offer my unreserved and unconditional apology.

I would like to add that, even if the statement I falsely attributed to Chomsky were to be truly made by him, I would not consider it a patronizingly racist slur, but a fully admissible characterization in our political and ideological struggle. There are African-American intellectuals who allow themselves to be fully co-opted into the white-liberal academic establishment, and they are loved by the establishment precisely because they seem "one of us," white with a darkened skin. This is why, I think, the statement I falsely attributed to Chomsky does NOT amount to the same as Silvio Berlusconi's misleadingly similar characterization of Obama as beautiful and well tanned: Berlusconi's remark dismissed Obama's blackness as an endearing eccentricity, thus obliterating the historical meaning of the fact that an African-American was elected President, while the remark I falsely attributed to Chomsky, if accurate, would point towards the ambiguous way Obama's blackness can be instrumentalized to obfuscate our crucial political and economic struggles.
It seems as though Chomsky did not understand Zizek's reply, saying Zizek claimed "attributing to me a racist comment about Obama is not a criticism, because they were 'a fully admissible characterization in our political and ideological struggle.'"
Zizek states explicitly that he does not find the remark racist as it reflects a real political phenomenon: that of a black person whose cultural status as a black person has been over come by his political-economic status as an upper-middle class elite ("co-opted into the … elite"), thus problematizing any analysis which heralds a black president as a significant contribution to "our crucial political and economic struggles": is Barak Obama a symptom of inequality maintained, or inequality fixed?
This insight of Zizek's alone is enough to refute the claims laid against him, that he engages in "empty posturing." The "debate" between Zizek and Chomsky has so far mirrored the insubstantial attacks throughout the 20th century between mistrustful analytic philosophers and the continental school. Until Chomsky takes the time to read and understand continental philosophy, it seems likely to stay that way.
-Michael Burgess