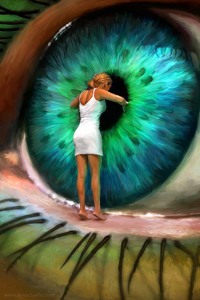 …I cannot outline the spiritual problems of modern man without giving emphasis to the yearning for rest that arises in a period of unrest… It is from need and distress that new forms of life take their rise, and not from mere wishes or from the requirements of our ideals."
When Carl Jung's Modern Man in Search of a Soul was first published in 1933 he had already treated many hundreds of patients from all over the civilized world and "every one of them fell ill because he had lost that which the living religions of every age have given to their followers" (229). His book looks at Western Civilization through those same doctorly eyes and he thinks the collective picture "presents only a somewhat more complex picture of psychic life than the individual" (210). The same basic diagnosis applies both individually and collectively. The problem is meaninglessness, relativism, nihilism and nothing less than the death of God. This problem operates on something like a psychological law of conservation. "For every piece of conscious life that loses its importance and value – so runs the law – there arises a compensation in the unconscious," Jung says.
Our favorite podcasters partially examined "the spiritual problem of modern man" in episode 81, particularly during a 24-minute stretch between 36:00 and 1:00:00. They collectively speculated about the "civilizational causes of human misery" and the possibility of addressing the problem. As Wes put it, Nietzsche thought we could not simply perform some kind of CPR on our dead God. Jung didn't think we "jaded Westerners" could simply return to the traditional creeds or churches either. "This of course has nothing whatever to do with a particular creed or membership of church," Jung says. The forms – the architecture and the rituals – remain but only as dead fossils. Is it possible to have an authentic religious life in a culture that has no living religion nor a living God? Shall we just follow Dawkins and dismiss the whole thing as silly? As Mark pointed out, we certainly aren't going to find any authentic spiritual meaning at the local mall. In other words, it's not the kind of problem that can be solved by economic policies or technological innovation.
Jung was the kind of thinker who could disturb the psychologists for being too theological (Freud) and disturb the theologians for being too psychological (Buber). It's not that he operated in a twilight zone between the two but Jung viewed the psyche as inherently spiritual, without entailing any belief in the supernatural. A living religion on his view is one that properly serves a psychological need.  Not, however, as a comforting crutch or as a bandage for one's neurosis.  Jungian psychology says that the most important instinct is the drive toward psychic wholeness, the need to incorporate all other instincts into a fully integrated Self – so that one is firing on all cylinders, so to speak.
This is a natural developmental process that he called "individuation" and as Seth mentioned, the same basic idea was also popularized as "the hero's journey" by Joseph Campbell. His most popular book, The Hero With a Thousand Faces, has been translated into more than 20 languages and has sold well over a million copies. Campbell's basic thesis is that mythic heroes from all times and places present a symbolic picture of this natural developmental process. Jung had to excavate this symbolic picture from the dreams of his patients but Campbell was a comparative mythologist who leaned almost entirely upon the world's fairy tales, myths, and religions.  They both speak the same symbolic language. As Campbell put it: myths are public dreams, dreams are private myths and religion is a misunderstanding of mythology. The hero's journey (or monomyth) is a pattern that can be discerned in every religion and in very different kinds of stories, including Dorothy's adventures in the land of Oz, Luke Skywalker's struggle against the Empire as well as the epic adventures of Moses, Orpheus, Buddha or Christ.
Alan Watts, a hippy-era popularizer of Buddhism and other Eastern philosophies was digging the hero's journey way before it was cool. He spent a year with Campbell in the very early '50s almost immediately after Campbell's book was published in 1949. Watts then wrote his own book on the topic, Myth and Ritual in Christianity which was first published in 1953. Like Jung and Campbell Watts interpreted the Christian myth as an expression of the perennial philosophy and Christ, the central hero of Western culture, as a symbolic picture of our psychological-spiritual development. More specifically his book examines the standard, traditional rituals of both the Catholic and Orthodox Churches. Apparently both brands of Christianity are missing a few pieces of the hero's journey but the complete cycle is illustrated by cobbling them together, using one to supplement the other. There is enough detail to keep a theology wonk busy for quite a while and yet the overall effect is a portrait of the esoteric, mystical core of the myth.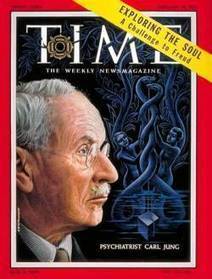 It's widely known that George Lucas used Campbell's monomyth as a model for the Star Wars films and that this fact became famous after a series of interviews with Bill Moyers on PBS in 1988. One could see "follow your bliss" bumper stickers back in those days. These ideas have seeped further since then into Hollywood and popular culture. Christopher Vogler, a Hollywood insider, soon after wrote an instruction manual for would-be screenwriters. The Writer's Journey: Mythic Structure For Writers (1992) is based on Joseph Campbell's work, particularly The Hero with a Thousand Faces. Vogler makes a case that all successful films adhere to these quasi-Jungian principles, deliberately or not. It's easy to imagine that there is a Vogler fan sitting at a Starbucks somewhere and he's typing furiously on his laptop.
Jung's ideas were watered down and otherwise degenerated as they were popularized (that's the case when any idea "enjoys" popularization, I suppose). But it seems that all of this is very much in line with Jung's expectations. In some ways, the "New Age" movement had already started when he wrote Modern Man in Search of a Soul. "Western Theosophy is an amateurish imitation of the East," he wrote in 1933 and there was widespread interest in the occult for decades before Jung was even born. Jung saw these popular fads and movements – not to mention reactionary movements like fascism and fundamentalism – were signs and symptoms of modern man's spiritual crisis. This is what people will do when their instinct toward wholeness is frustrated by the death of God. Jung had a native American friend back in those days, the Governor of the Pueblo at Toas in New Mexico, who confidentially described this collective illness of "the whites" as a kind of insanity.
We don't understand the whites; they are always wanting something – always restless – always looking for something. What is it? We don't know. We can't understand them. They have such sharp noses, such thin, cruel lips, such lines in their faces. We think they are all crazy."
Joseph Campbell offers something like an answer in the fourth volume of his four-volume work titled The Masks of God. The first book in the series covers primitive mythologies, the mythologies of the civilized East and the civilized West each get their own volume and it all culminates in the fourth and final book: Creative Mythology. The overall effect is to sketch out an arch of development, to see how the Gods evolve along with human culture. The final volume makes a case that each of us is responsible for finding our own way – there is no going back to the old forms and the new myths have yet to be born. It may even be that we've outgrown our dependence on prescribed meanings altogether so that there isn't likely to be a new one-size-fits-all kind of myth. Instead, each one of us has to get creative. Everyone will have to search for the holy grail, in the language of the Arthurian legends, each must enter the dark forest at a point of his or her own choosing. As that story goes, it is the wise fool who accidentally stumbles upon the grail while he's busy doing something else.
In the movies, a successful journey (or successful individuation) is often depicted as a final triumphant scene in which all the main characters are re-united and celebrating with the hero of the story. This is supposed to represent the integration of the various aspects of his or her Self. The journey makes demands on the hero and forces him to incorporate and deploy previously underdeveloped skills or abilities. It's similar to the way Captain Kirk needs Spock's logic and McCoy's passion to get the job done but with a larger and more complicated cast of characters. Step by step, all the hidden potentials of the hero are brought out during the quest. It's all very strange, almost as vague and slippery as a dream. But if I understand it, the basic idea is that this myth needs to be enacted. That's what ritual is, more or less; the enactment of a myth. We find ourselves in a situation where the myth has to be acted out in life or in some other way. Shall we all become comparative mythologists and/or dramatists? That's not going to be everyone's cup of tea but if you're the sort of person who would read an article like this one, that's probably a plausible option for you.
David Buchanan