About an hour into their discussion the PEL guys (minus Seth) briefly grappled with the meaning of Emerson's revolution. This revolution will be wrought, Emerson thought, by a "domestication of Culture" with a capital "C." Should we take "domestication" to mean some kind of taming, or does it mean that "Culture" should be brought home in some sense? This revolution, Emerson prayed, would be more illustrious than any monarchy in history but how so? There are probably several good ways to answer these questions but I think Wes was right to describe this as Emerson's call for a kind of "democratic elitism," a deliciously oxymoronic idea.
This sort of "elitism" is an aspect of what Stanley Cavell describes as "Emersonian moral perfectionism." If the Stanford Encyclopedia is right, "Stanley Cavell's engagement with Emerson is the most original and prolonged by any philosopher, and Emerson is a primary source for his writing on 'moral perfectionism.'" Unlike its counterpart in psychology, this kind of perfectionism is not about the impossible standards of a control freak. It's not about flawlessness. Instead, Emerson's version of philosophical perfectionism asks us to engage in a never-ending process of personal development. On this view, greatness is no longer the exclusive domain of generals, kings, and popes. It is a democratic elitism wherein the site of cultural and spiritual authority shifts from the aristocratic few to the democratic many. As the Stanford article explains it, Cavell's development of this Emersonian perfectionism was prompted by the criticisms of John Rawls. (Rawls had explicitly rejected Nietzsche's perfectionism but this was an implicit rejection of Emerson too.) In response, Cavell insists that this is not the elitism of dominant overlords but rather a widespread elitism that democracies need in order to remain healthy and democratic. As the Stanford Encyclopedia puts it,
Cavell replies that Emerson's (and Nietzsche's) focus on the great man has nothing to do with a transfer of economic resources or political power, or with the idea that 'there is a separate class of great men…for whose good, and conception of good, the rest of society is to live.' The great man or woman, Cavell holds, is required for rather than opposed to democracy: 'essential to the criticism of democracy from within.'
I suppose Emerson would applaud Cavell's sustained engagement and originality and you'll probably want to read him carefully if you're interested in Emerson, but Cavell is not a specialist in Emerson or anything else. He's a unique voice and an interdisciplinary generalist. In fact, there is a relatively new journal dedicated to discussions of his work and, as necessity seemingly dictates, Conversations: The Journal of Cavellian Studies is an interdisciplinary journal that "puts no restrictions on the nature of the dialogues, or the number of disciplines." The first issue contains at least two articles on perfectionism, including one about the aforementioned dispute with Rawls, although you'd have to sign up to get access to them.
Unlike Cavell, Robert Pirsig's engagement with Emerson was not at all prolonged and I'm not sure how original it was either. He quotes Emerson just once in Zen and the Art of Motorcycle Maintenance but mistakenly attributes the words to Thoreau. ("You never gain something but that you lose something.") Despite this apparent lack of attention, there are still many reasons to suspect that Pirsig's work, like the work of other classical pragmatists, is deeply influenced by Emerson.
A few years ago, while working on a Master's thesis comparing Pirsig with William James, I wrote to Pirsig to ask him about this influence. "We were at Emerson's house in Concord a few years ago and bought a book about him they recommended as the best," he wrote. "I liked the start but got bogged down. If you'll send your address, I'll mail it to you." Pirsig is not a huge fan, apparently, but the signed biography, Emerson: The Mind on Fire, makes a great souvenir and its author is highly respected. (Robert Richardson, the author of Emerson, also wrote the definitive biography of Emerson's godson, titled William James: In the Maelstrom of American Modernism.)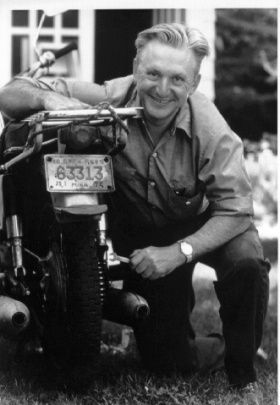 One of the reasons Pirsig "got bogged down" and didn't finish Richardson's biography, he wrote, is that "Emerson was an iconoclastic minister" and so "there is always a whiff of ministerial unction in his rhetoric." I suppose many of Emerson's readers are turned off by the smell of that ministerial unction. Despite these misgivings, Pirsig does agree with Emerson's transcendentalism to some extent. These are the comments I found most interesting but they include some unfamiliar concepts that might need some explaining. For example, it might be helpful to know that "philosophology" is a term Pirsig invented to distinguish those he considered real philosophers from unoriginal historians of philosophy. This is very much like the difference between creative artists and art historians, with the latter being parasitic on the former. He uses the antiquated word "Chautauqua," which was a traveling institution that offered edification and entertainment to adults in the late 19th and early 20th centuries, usually held outdoors in the summer, and it's also the name of a resort town on Lake Chautauqua where this quasi-intellectual circus first began. Finally, Pirsig mentions his late friend, Bob DeWeese, who also appears as a character in Zen.
Whenever I see the suffix, 'ism,' I think 'Oh-oh, here comes some philosophology,' and shy away. I think that there is a narrow philosophological Transcendentalism that starts and ends with Emerson. But there is a philosophical Transcendentalism, a ground swell of cultural belief, that starts with the Protestant Revolution in Europe and ends with the Chautauquas when they were killed by radio in the 1920s. I think the cultural root of Transcendentalism is still here, dormant, and the reason ZMM 'hit a nerve,' as DeWeese once said, is that ZMM tapped into this root.
Here, I think, Pirsig wants to put Emerson's revolution into a particular historical context so that the domestication of Culture is part of an ongoing process. If we think of the rise of Protestantism as a movement away from institutional authority and toward the authority of individuals, then Emerson's vision is just one more step in that trend. This groundswell of cultural belief, then, is all about the diffusion of authority and autonomy so that ordinary people are increasingly the author of their own lives, as opposed to following the prescriptions of popes and kings and ancient books. In the pre-Modern period, large domains like art, science, religion, and politics were all rolled up into a single, undifferentiated central authority. The Modern period is marked by the attempt to set these domains free while affording a certain dignity and independence to these disciplines. This is also the period in which actual revolutions occurred and our Modern democratic impulses were increasingly formalized and institutionalized. Pirsig is saying that Emerson's hopes and dreams for a revolution more illustrious than any monarchy in history is, I think, one piece in a larger puzzle. It's one more step along the path that we've been walking for several centuries. Those who followed after Emerson, including people like Nietzsche, James, Dewey, and Pirsig, took us even further down that same road.