"Therefore, I urge you, brothers and sisters, in view of God's mercy, to offer your bodies as a living sacrifice, holy and pleasing to God—this is your true and proper worship." – Romans 12:1
It's not news that The Matrix is littered with biblical references.  It's also not news that the second and third movies are terrible. But, there is a Matrix supplement that is the best human apocalypse story in existence (robot or otherwise).  It also addresses a number of relevant philosophical topics.
"The Second Renaissance," episodes two and three of The Animatrix, is brilliant. (Episode two is downloadable here, and episode three is here; both are viewable on Youtube.  It is the story of the rise of AI from repressed servitude to the domination and near-destruction of humanity.  It begins with B1-66-ER (a reference to Bigger Thomas), a housekeeping robot who killed his owners to avoid his own termination. He is not given a fair trial and states that he "simply did not want to die." This sets off a chain of events beginning with a failed, violently put down, robot civil rights movement, leading to the creation of an independent machine nation "Zero-One."  After an attempt by humans to destroy 0-1 and block out the sun, the machines take over the earth and turn us into batteries.  It's not pretty.
The brilliance of these short episodes (together, they total twenty minutes) is in their complex visual questioning of the idea that we are the only intelligence, or that we own intelligence itself. Science fiction has created a lot of AI apocalypses. "The Second Revolution" is kind of a synopsis of them all. With commentary. It delves into the ethics of servitude, the cost of war, and the idea of what it means to be a conscious being. Its greatest quality is its ability to be referential.  From the obvious pyramid structures being built by robot servants to the Billy Graham wannabe displayed in front of a human army, the film constantly critiques ideas that are important to human history and modern society. For example, this should look familiar: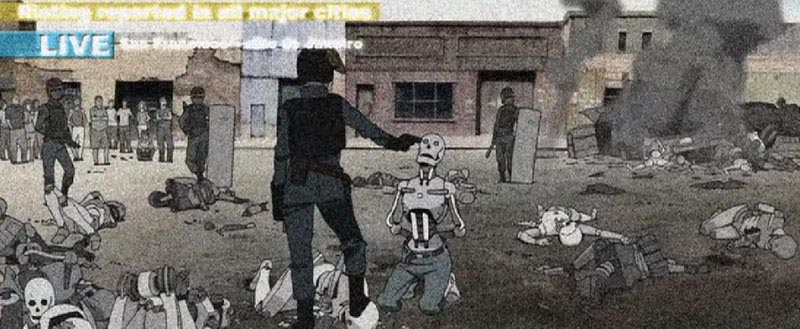 Unsurprisingly, much of what is alluded to is religious in nature, dealing with the idea of human superiority and faith vs. reason issues. But, what's most interesting is the realization that the thing that all those people are worshiping and fruitlessly looking to for salvation in "reality" is suddenly functionally real once humanity is subjugated. In humanity's new reality, all they can know or understand, there is a creator outside of comprehension. A higher intelligence that is omnipotent and can hear your prayers.  In The "Second Renaissance," humanity created god, and they are it's slaves. It is a brilliant and jarring re-framing of the classic philosophical "brain in a jar."
The bottom line is that The Second Renaissance is a must watch for Sci-fi and philosophy nerds alike. It's the perfect gateway drug for discussions of human intelligence, ego, historic recurrence, phenomenology, and a dozen other philosophical topics that are, in this writer's opinion, not hurt by their inclusion in a robot war.  It's brilliant. It is gorgeous.  It' on youtube for free.
Bless all forms of intelligence.
P.S. in searching for the images above, I was lucky enough to come across what might be the funniest, and my new favorite, image on the internet.
http://1.bp.blogspot.com/-DW7ESYkTwc8/TtMSGA3XARI/AAAAAAAABAw/58L5WtFx_rQ/s1600/under%2Bgod.jpg