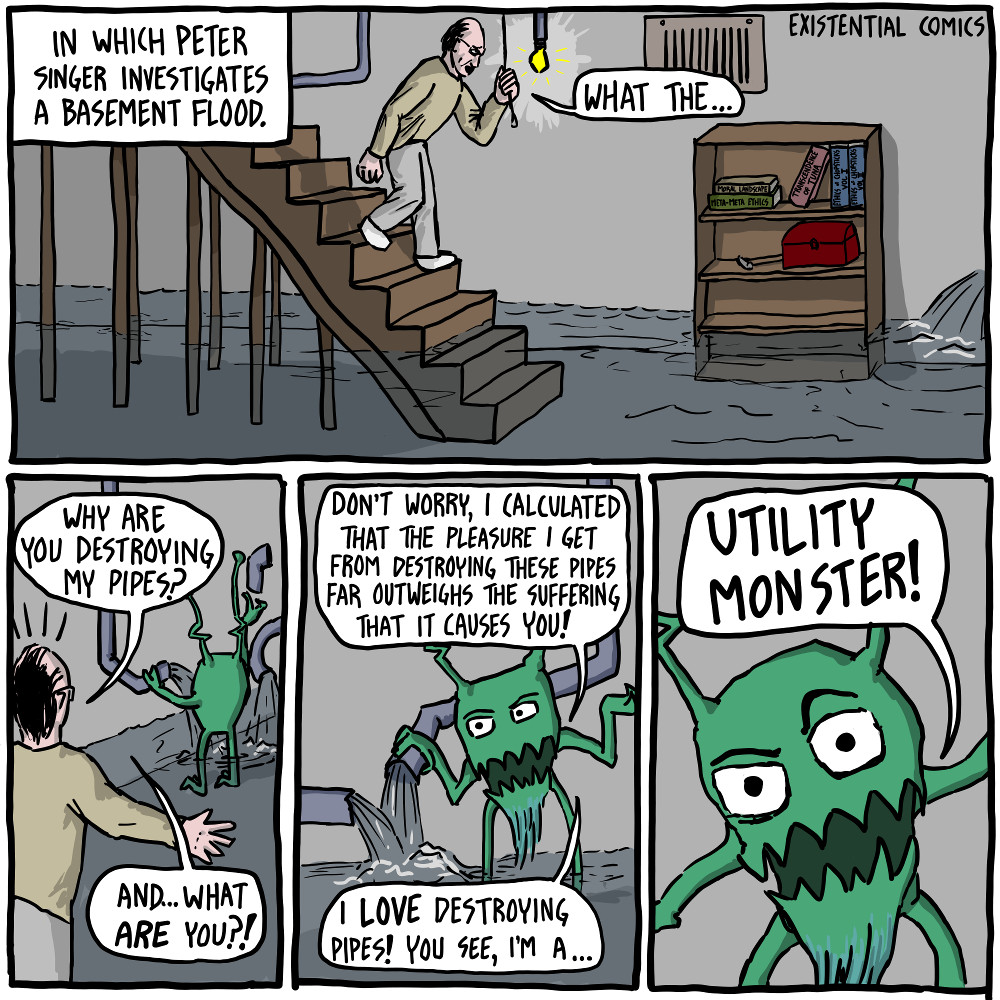 Peter Singer is a man whose moral worldview extends beyond the scope of human beings to the protection of animals and our planet, in an ever-expanding circle of concern. He is the godfather of the Animal Liberation movement and perhaps the most vocal proponent of utilitarianism, which seeks to maximize the most well-being for human beings as possible. Singer is now spearheading a new movement called effective altruism (hereafter, EA), whereby Singer and other effective altruists seek to do the most good they can do for other people.
What does it mean to do the most good we can? According to Singer in his new book The Most Good You Can Do (2015), it means creating a world with less suffering and more happiness in it. For those who live in capitalist democracies, the likes of which we see in the developed world and which lead the way for the rest of the world, most of the time this will mean donating large sums of money to charities that have proven track records of improving the lives of the less fortunate, those who are living in extreme poverty. People in extreme poverty should receive the most support, Singer argues, because they are the greatest in number: nearly half the world's population subsists on less than $2 a day, and 20 percent of those people live on less than $1 a day. Because we in the developed world have so much money at our disposal, we ought to give a portion of our expendable income to those in extreme poverty, provided this charitable donation does not create considerable discomfort for us, so he argues. His program of EA, taking up the mantle of the traditional Christian practice, recommends we donate 10 percent of our income.
EA also proposes that we do meaningful work that will allow us to make larger incomes so that we can donate more money to those in need, and that we form communities with other people who will also be willing to donate their 10 percent and do meaningful work on behalf of the less fortunate. Nothing should be off limits, Singer thinks, in our contribution to EA, not even our plasma, bone marrow, or kidneys; if we would be willing to donate our bodies, our money, our time, and our work to helping others, and we would be happy doing it, then we ought to. "If doing the most good you can for others means that you are also flourishing, then that is the best possible outcome for everyone," Singer writes.
In the broadest sense, we might all aspire to be effective altruists. Singer tells us that EA is a "a philosophy and social movement which applies evidence and reason to working out the most effective ways to improve the world." Yet he occasionally hems in the very conditions by which we might want to work on behalf of EA. Take, for example, the Make-A-Wish Foundation, the charity that organizes events for very ill children by which they can fulfill their dreams. Singer recounts a story in his book of a boy suffering from leukemia whose dream of being Batman was fulfilled as part of a San Francisco parade, the cost of which ran to approximately $7,500. Singer rightly adjudges that, dollar for dollar, this was not the most effective means by which this money could have been used. (Nor was the $10,000 that the Dream Factory, a similar organization, spent to help realize the dream of my brother, who suffered from a brain tumor, to go to Disney World.) Singer writes, "Effective altruists would, like anyone else, feel emotionally drawn toward making the wishes of sick children come true, but they would also know that $7,5000 could, by protecting families from malaria [for example], save lives of at least three children and maybe many more." Singer assumes that the special rights and responsibilities we feel toward our own family members, friends, and fellow citizens are irrelevant in view of what ought to be our desire to provide for the least well off.
Effective altruists will feel the pull of helping an identifiable child from their own nation, region, or ethnic group but will then ask themselves if that is the best thing to do. They know that saving a life is better than making a wish come true and that saving three lives is better than saving one. So they don't give to whatever cause tugs most strongly at their heartstrings. They give to the cause that will do the most good, given the abilities, time, and money they have available.
This view of Singer's, that for moral issues all that matters is less suffering and more happiness for people, regardless of where they are, is a position he has publicly espoused since at least 1971. In an essay he wrote that year, titled "Famine, Affluence, and Morality," he argued for a morality without familial or other social or national boundaries. In one part of the essay, he asks that you imagine a scene in which you have the opportunity to save a drowning child from a shallow pond. You can wade into the pond at no harm to yourself other than ruining your clothing and accessories. Singer thinks you and most other people would be willing to go into the pond to save the child, no matter the damage to your clothing. He asks us to consider what would be the moral difference between this scenario and a scenario in which you can save a life right now by donating to one of several effective charities, sacrificing the money you otherwise might have spent on a new item of clothing or other creature comfort.
This hypothetical account of the drowning child appears again in his book The Life You Can Save (2012). In addition to recounting the scenario, he restates his argument that since suffering and death are so bad, if we have the power to prevent suffering and death without sacrificing something of equal moral importance, we ought to do it. The cost of saving the life of someone living in extreme poverty is rather small, he argues—anywhere from $200 to $2,000—and if each Westerner donated $200 this year to a verified, effective charity, the United Nations would satisfy its Millennium Development Goal to eradicate extreme poverty by 2030. In that book, Singer suggests a system by which people in various income brackets donate on a sliding scale; there's even a donation calculator on his Life You Can Save website that you can use to see your recommended donation level based on your income bracket.
Singer goes further in his newer The Most Good You Can Do, in which he calls for 10 percent of our income and carries his argument to its logical conclusion, asking us to put aside the so-called artificial boundaries that he believes have so needlessly hemmed in our ability to give effectively. Singer thinks, to be sure, we will slip, and provide too much for those around us. He writes that "effective altruists are real people, not saints, and they don't seek to maximize the good in every single thing they do, 24/7." But since people in extreme poverty are suffering so much, we would not be good effective altruists if we spent too much on our countrymen or friends, or doted too much on our family or our children.
Effective altruists do not think their children need all the latest toys or lavish birthday parties, and they reject the widespread assumption that parents should, on their death, leave virtually everything they own to their children rather than give a substantial part of their wealth to those who benefit much more from it.
Singer hopes that readers will be persuaded by his arguments to live a life of effective altruism, acknowledging that "[e]veryone has boundaries," and telling us that "[i]f you find yourself doing something that makes you bitter [with respect to EA], it is time to reconsider." He goes on to ask, "Is it possible for you to become more positive about it? If not, is it really for the best, all things considered?"
What Singer's EA boils down to is whether all that matters in doing the most good we can do is to decrease the net suffering and increase the overall well-being of other people. In other words, the question is whether this moral obligation to make the greatest number of people flourish ought to receive precedent over other obligations we may feel to family, friends, and our countries. Consider obligations to country, for instance. As states of affairs are now, my home country (the United States) is functionally an oligarchy, whose government spends comparatively little to help its poor, and whose poorest citizens are increasing in extreme poverty. As a US citizen, am I under any special obligation to help these people? Would it actually be wrong to lend support through charitable donations to them before I give to charities that support people in even more dire circumstance elsewhere in the world? There are no easy answers to these questions, but rights and responsibilities to family, friends, and country do seem to me to constitute special obligations. This is my conviction; perhaps you share it. If not, I doubt there's much we could do to convince each other, either way.

(Singer's paper "Famine, Affluence and Morality" was discussed in Podcast 9 on utilitarian ethics. The Boston Review recently hosted an online forum on effective altruism in which Singer engages with several of his critics.)
---
Billie Pritchett is a writer and English lecturer with interests in moral and political philosophy, philosophy of social science, and phenomenology. He maintains his own blog called si hoc legere scis… and is on Twitter via @b_pritchett.